2012
06.24
I recently installed the SonicWALL NetExtender VPN client on a new laptop running Ubuntu 12.04 to do some work over the weekend and received an error during the install. I guess this probably shouldn't've come as a surprise, although the NetExtender VPN client had installed without issue on the previous LTS version of Ubuntu 10.04.  Below is a copy of the dependency error I received:
--- SonicWALL NetExtender 5.5.707 Installer ---
Checking library dependencies...
Missing library: libssl.so.6
No compatible version found.
I ran the following command to find an updated version of the libraries already installed on Ubuntu 12.04.
find / -iname libssl*
I then ran the following commands to create symbolic links to the missing dependencies:
sudo ln -s /lib/i386-linux-gnu/libssl.so.1.0.0 /usr/lib/libssl.so.6
sudo ln -s /lib/i386-linux-gnu/libcrypto.so.1.0.0 /usr/lib/libcrypto.so.6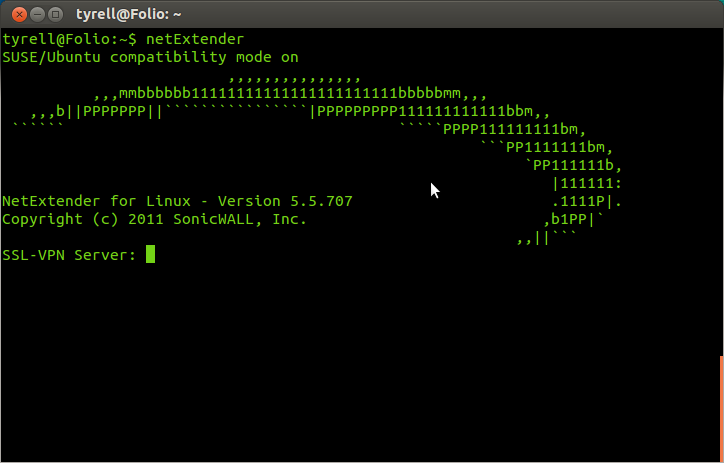 UPDATE: I recently reinstalled/upgraded to Ubuntu 12.04 64bit, here are the commands needed for the 64bit install:
sudo ln -s /lib/x86_64-linux-gnu/libssl.so.1.0.0 /usr/lib/libssl.so.6
sudo ln -s /lib/x86_64-linux-gnu/libcrypto.so.1.0.0 /usr/lib/libcrypto.so.6
You can download the linux SonicWall NetExtender SSL VPN clients here:
32bit: NetExtender.Linux.5.5.707.x86.tgz
64bit: NetExtender.Linux.5.5.707.x86_64.tgz